Have you pay attention to this year's Christmas big sales? Besides the biggest discounts, the wonderful digital shopping catalogs are the other highlight in this Christmas season. Various kinds of shopping catalogs are sent and delivered to people's emails boxes. They would read on their phones, tablets, and computers. That is why the digital shopping catalog spread widely. It is so convenient for people to read the catalog and it would not course any troubles like the paper catalogs which are so troublesome to carry and are not so environmentally friendly. To tell you the truth, it is so easy to make such a shopping catalog with the help of some flipbook software. Here I have made some researches on one flipbook software, called Mobissue.
Below is one video to help you have a brief understanding of this amazing software.
Actually, Mobissue allows users create the catalog online or with the desktop client. Now I would spend some time to make a simple introduction about how to make a shopping catalog with these two ways.
Desktop client
1. Get started with Images
Mobissue offers two ways to create a digital flipbook, from images or from PDF. As for catalog, I would recommend you to create from images in order to freely add other contents and have your own layouts following. Choose some images of your products with the similar size and then import them into the software. All the images would be converted into one catalog. And then choose the presenting mode, Slide or Flip.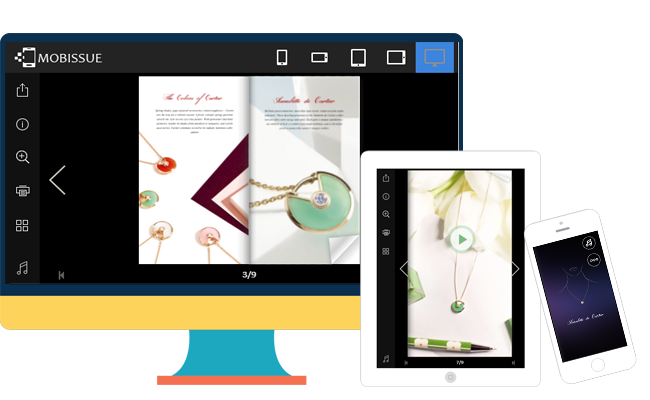 2. Give the catalog some embellishments
Mobissue enables you to add multimedia to a catalog.
Music – it is background music the most important thing of your catalog. It can help to catch audiences' eyes.
Dynamic scene – one dynamic scene would add activity and creativity to your catalog.
Video – a simple video to introduce your promotion is needed.
E-commerce button – the key point to the catalog. With the help of the e-commerce buttons, you can sell your products directly in the catalog.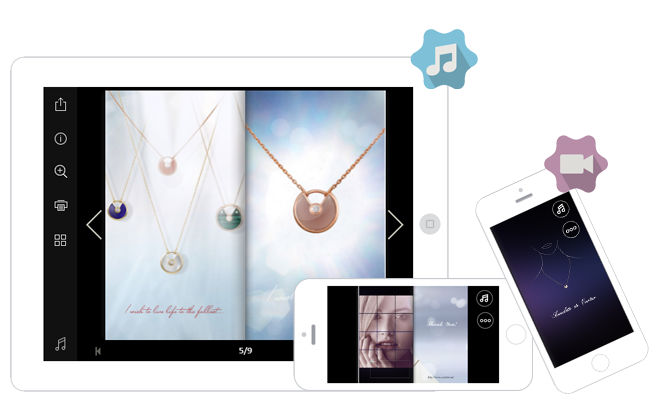 3. Publish and share
Mobissue allows you to publish your shopping catalog in 6 formats. HTML, ZIP, EXE, Email to, To FTP Server, and Save as Plug-in.
1. Firstly, you need to sign up for a free account and then upload images online.
2. Secondly, perfect the catalog information like title, description, keywords, category and more.
3. Thirdly, choose a template among Flip, Cool, Normal and Slide.
4. Fourthly, choose a scene in the given theme, such Ballon, Bubble, Cloud, and Flower.
5. Fifthly, complete the advanced settings if needed.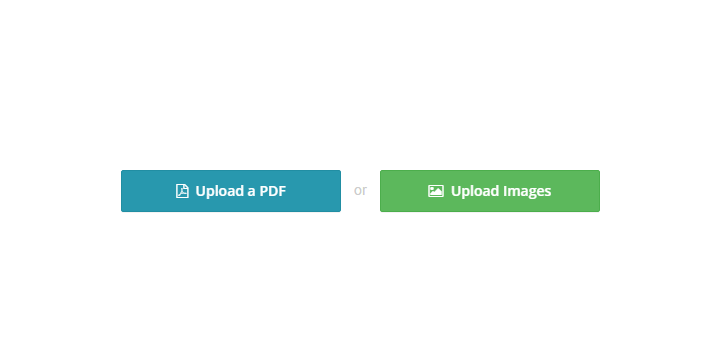 The main settings are as the following:
Background – choose the background color or upload an image online.
Background music – upload a beautiful song to polish your catalog.
Loading caption – the default caption should be "Loading", you can change it according to your needs.
Book language – the default language is English. There are more than 10 kinds of language available to you.
6. Finally, if you have completed the information part. You can click "Create" to publish your catalog online.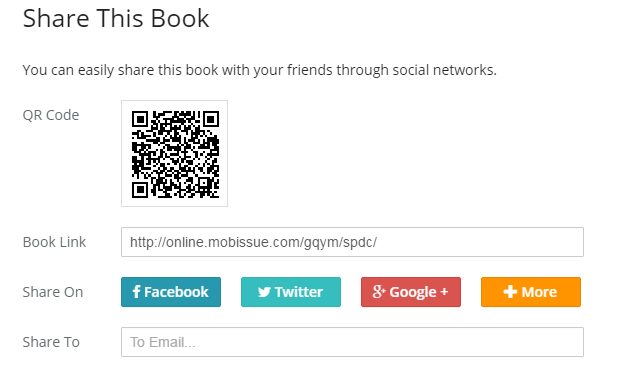 7. After successfully creating, you can begin to share your catalog to people. There are four ways to share. Save the QR code and send to your audiences and customers. Copy and paste to send the book link to people. Share on the social network like Facebook, Twiter, Google+. Send your catalog via Email.